WELCOME TO THE U.S. REPLICA GUN COMPANY
The United States Replica Gun Company Proudly Serves the US Military, Discerning Collectors, and the Film Industry with High Quality Replica Weapons and Explosives.
Check Out RGC's New M2 Browning, with moving Charging Handle!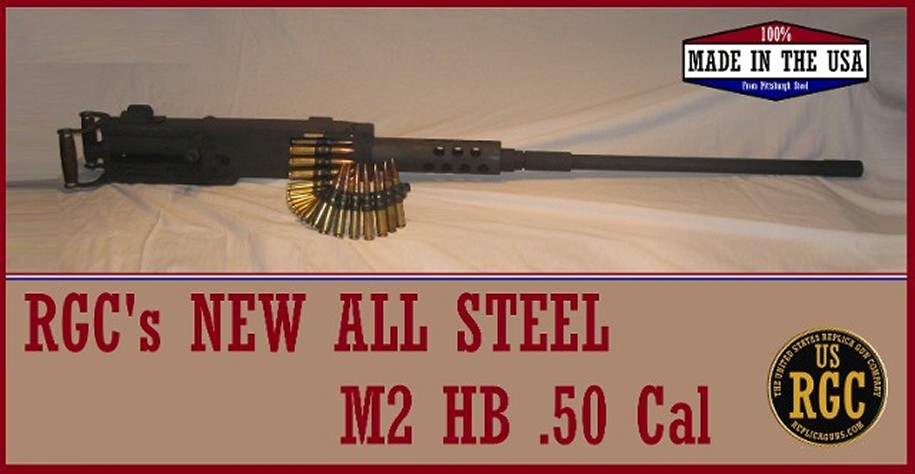 Designed in the USA, built in the USA, from 100% made in the USA parts...even the Rivets and Castle Nuts!

NEW FOR 2015: The Browning BAR, And the All Steel Browning M2 HB .50 Cal!
We Always have something new cookin' here at RGC...New for 2014/2015 are three items: First item, an all new all metal and wood Sharps Carbine and Rifle for the Civil War Collector. An all NEW WORKING BOLT AND TRIGGER STEN GUN for the WWII fellas. This new STEN will replace those solid bolt non workable dummy guns that were until now the only STEN Available. THE BIG NEWS HOWEVER is the NEW ALL STEEL Replica .50 Cals! Better than alloy, highly detailed, and the best part is they will have a working spade trigger and a super robust charging handle and charging handle plate! WOW!!....Below is a picture of the prototype receiver..............Production of the first batch is under way as of June 28th, 2014...Did we mention the all metal BAR's?

The New Working Bolt and Trigger STEN Mk II Prorotype "A" Reciever for Our All Steel Browning M2
---
CLICK HERE! CHECK OUT THE NEW M4 RIFLE CUSTOM SHOP! CLICK HERE!
| | |
| --- | --- |
| Illustrated in the famous 1965 Field Manual "Booby Traps", this devious IED was manufactured by the Germans in WWII. Normally confused with a traditional Booby-trap, these were really more like improvised/covert grenades, as they had seven second fuses. Made with steel, covered in a thin layer of real Chocolate, these nasty surprises were just another in a long list of German WWII Munitions. Our Replica is a solid glossy brown bar that really looks like chocolate. The end comes pre-broken, and it exposes a simulated pull tab for the fuse, made from real canvas. This is another proud RGC Exclusive, and I can guarantee, you will never find another replica of this covert improvided grenade. | |
---
DEAR PATRONS:
Thank you for Visiting our new web home. THIS NEW WEBSITE, open as of August 1st 2014. Our NEW site is still UNDER CONSTRUCTION, and we are adding new features and products weekly. Please Pardon our Dust, and check back from time, to see our progress. Our Goal is a smooth interactive web home for our fellow replica gun collector. THAT'S OUR CURRENT PROGRESS? We welcome you to peruse these pages yourself, but essentially the site is complete except for:
Population of the product pages. Only a fraction of what we offer is currently listed.
The Addition of the Sgt. Half-Mast Product Videos.
The Addition of a few more multimedia items.
Please Note: We are adding products and categories weekly. If you don't see what you want ask, we probably have it. Our friendly staff has been collecting Replica Guns since the 1960's and we can answer just about any question you have regarding replica guns. Talk to us, we speak your language, and we'd love to hear from you....
U.S. RGC is Division of the Acme Gun Group Sigillum Militum Xpisti +