The United States Replica Gun Company Proudly Serves the US Military, Discerning Collectors, and the Film Industry with High Quality Replica Weapons and Explosives.
---
FRONT FIRING BLANK GUNS NOW AVAILABLE: CALL FOR DETAILS!!
---
MA DEUCE AVAILABLE NOW!!! "Click on the Pic" to order!
CLICK HERE FOR MORE PICS AND INFO ABOUT OUR SUPERIOR NEW M2 HB!!
Designed in the USA, built in the USA, from 100% made in the USA parts...even the Rivets and Castle Nuts!
SPEAKING OF NUTS, Hold on to your Lug Nuts Guys, RGC now has an exclusive offering that is hands down the Best PPK Replica EVER!!! End of Story. What has it got you ask? First; it's a Blank Gun. Second; it's a Front Fire Blank Gun, Third; it's the Kimar version with the correct button mag release. Fourth; it has real Double Action, but the Kicker is Feature Number Five: The grips. We have recreated the German NDSAP Party Leader Grips that were made in limited numbers for the Walther company. U.S. RGC has commisioned a talented CNC Artisan to recreate these grips, not in plastic, but in fine American Walnut. The work is exemplary, and kudos to our dedicated craftsman. The end product FAR exceeded our expetations. Yet another example of how RGC cares about these replica guns, making them better. Be that as it may, if you are a WWII re-enactor or collector, this gun is for you.....See Pictures below to view the unfinished prototypes and the CAD image used to create them.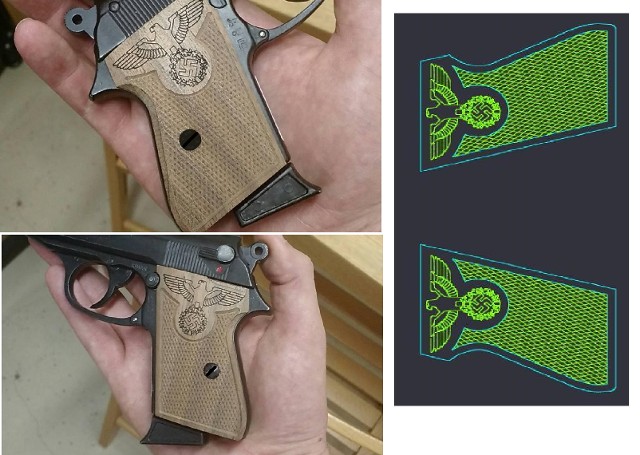 ---
HOME OF THE ALL STEEL "Ma Deuce" M2HB!! Check Out Our YouTube Product Demos!
Check Out the All STEEL M2HB

With Moving Charging Handle and Interior Detail!
---
Designed in the USA, built in the USA, from 100% made in the USA parts...even the Rivets and Castle Nuts!

NEW FOR 2015: The Browning BAR, And the All Steel Browning M2 HB .50 Cal!
We Always have something new cookin' here at RGC...New for 2014/2015 are three items: First item, an all new all metal and wood Sharps Carbine and Rifle for the Civil War Collector. An all NEW WORKING BOLT AND TRIGGER STEN GUN for the WWII fellas. This new STEN will replace those solid bolt non workable dummy guns that were until now the only STEN Available. THE BIG NEWS HOWEVER is the NEW ALL STEEL Replica .50 Cals! Better than alloy, highly detailed, and the best part is they will have a working spade trigger and a super robust charging handle and charging handle plate! WOW!!....Below is a picture of the prototype receiver..............Production of the first batch is under way as of June 28th, 2014...Did we mention the all metal BAR's?

The New Working Bolt and Trigger STEN Mk II Prorotype "A" Reciever for Our All Steel Browning M2
---
CLICK HERE! CHECK OUT THE NEW M4 RIFLE CUSTOM SHOP! CLICK HERE!