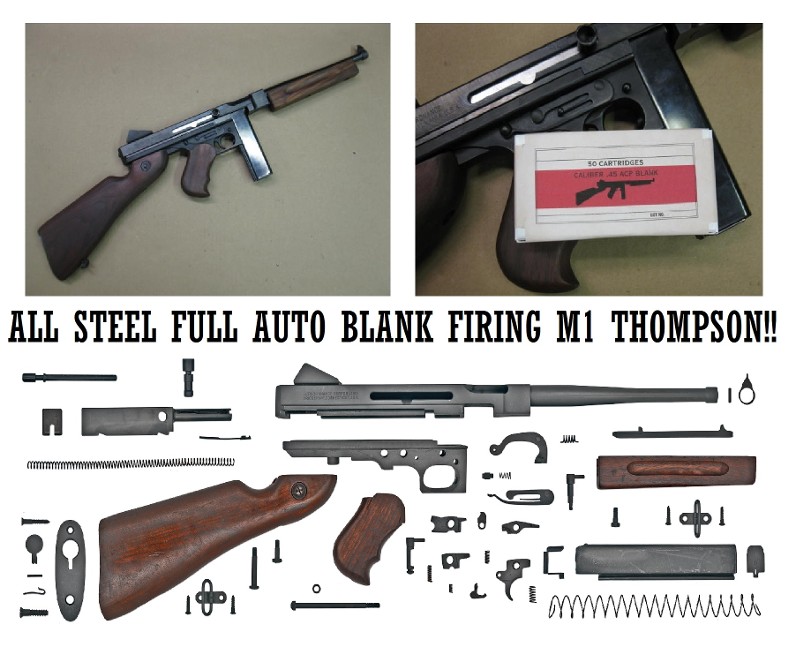 THIS is a gun I have personally waited for since the 1970's…….A REAL DEAL FULLY LEGAL BLANK FIRING THOMPSON!! NO JOKE FELLAS!!!
COMING SEPTEMBER 2017!!
I got the word on Christmas Eve from a buddy that the patents were filed, and the legal Blank Firing Only Thompson was going into production!!....And I thought the 2016 election was my Christmas Present! Guys, I am so stoked I can barely contain myself…..If you reading this, you have a ton of questions. I will try to answer them as best I can with bullet points….No pun intended.
Price: 2850USD (Tentative)
Availability: (Right Now the End of the Wait List is about January 2018)
Waiting List Accepted: Yes
Deposit Required for Wait list: No
Build Material: ALL STEEL/Machined Billet Receiver
Furniture Material: Wood
Magazine capacity: 20 or 30 Round ORIGINAL THOMPSON MAGAZINES!
Extra Mags Available: Yes, and Genuine Tommy Mags will work!
Caliber: .45 Cal (NOT 9mmPAK!!)
Ammo Cost: 35USD per box of fifty, 65 per 100 Round box
Operation: Blowback, Selective fire
Production Run: Limited
Gas Vent: FRONT VENTING!!
PAPERWORK REQUIRED: Zip, Zilch, Zero, Nada, Nothing!....Fully compliant in all fifty USA States!
ATF Approved: Yes, 100% BATFE Approved and Compliant! How 'bout that!
If I missed anything, send an email to info@replicaguns.com and I'll answer your questions as best as I can. While a BFONG Tommy was something I was working on years ago, this gun is totally NOT an RGC Product, It is manufactured by a man I consider a genius with machining and design. The patented barrel design of this gun that vents gas out the front is not only ATF Compliant, but in fact, Brilliant. Also…THIS IS NOT AN SS-ROOM design. For those of you who don't know, a few years back, a company known as the SS-Room made a small run of Thompsons using a proprietary 9.3mm cartridge. Those guns had a unique reverse cartridge design and there were unfortunately some reliability issues. These new guns WILL NOT HAVE THOSE ISSUES and feature not a reworked original barrel, but a newly designed barrel and receiver that are precision machined from billet...So..These guns aren't modified anything. They are built from the ground up as BFONG's (Blank Firing Only Non-Guns), and machined to the same super precice tolerances as a real gun. These BFONG Thompsons are built using old world craftmanship and gunsmithing.
This product is very exciting, and again, I feel like a kid in a candy store…or maybe a guy, in a gun store…lol….One other note: These guns are made from 100% new parts. ALL MACHINED of course, and interchangeable with genuine Tommy parts and indistinguishable from same. This gun will be essentially a new made M1 Thompson……But in Blank Firing Only Format.
So fellas, if you want to be put on the waiting list please reply to this email with "WAITING LIST" in the RE: line…..I'll add you email to the growing list. This BFONG Tommy will be a game changer in WWII Re-enacting…Cheers, and God Speed!!
Gary C.
US RGC
ADDENDUM: July 3rd, 2017: Guys, Batch One was supposed to be delivered in February!....Things take time, and many times the new items take longer than expected, and a few design improvements have been made to ensure EVEN BETTER reliability!.....This will be worth waiting for....I won't have batch one til September, at which time I will do a YouTube Video Review. As of right now, July third, the end of the Wait list is looking like January 2018.